« February 2003 | Main | April 2003 »
March 31, 2003
New IndieCrit
I've converted IndieCrit over to Movable Type and updated it with a new review. Enjoy it in all its splendor.
Posted by john at 10:57 PM | Comments (4) | TrackBack
A Little Something for the Video Game Geeks
Happiness is the 16th wave of the Unreal Tournament "Invasion" add-on, played on the Tokara Forest map, modified with Instagib sniper arena and low gravity.
That is all.
Posted by john at 08:41 PM | Comments (6) | TrackBack
Professor De Genova -- Hero of the Right!
Right wingers (and people who don't approve of blindingly stupid things said by educated people -- not necessarily the same group) are piling on Columbia Professor Nicholas De Genova, for his comment at a "teach-in" in which he said, " "The only true heroes are those who find ways that help defeat the U.S. military... I personally would like to see a million Mogadishus."
The right wingers have got it all wrong, however. This is proof that De Genova is a radical -- but for the right, not the left. Follow:
It is true that the US lost 18 soldiers in the fight in Mogadishu. However, they also managed to kill an estimated 500 to 1000 Somalis. So a million Mogadishus would have the US eradicating roughly the entire population of the continent of Africa, with, say, the populations of Iraq, Iran and North Korea thrown in as dessert.
It's also worth noting that in the aftermath of the Mogadishu event, Somalia collapsed into anarchy while the United States began the greatest bull run in its economic history; and while the latter isn't necessarily related to the events in Mogadishu, the former almost certainly is. Additionally, the commander-in-chief during the Mogadishu event was handily re-elected. Bear in mind also that despite the casualties, the "Black Hawk Down" mission did in fact accomplish its military objectives -- a little fact often overlooked.
So, in fact, were we to have a million Mogadishus, the likely result would be the complete United States military and economic domination of the entire world (which is to say, more than we have now), not to mention that we'd have all that lovely African real estate to ourselves, and Dubya would be crowned Emperor for life. What self-respecting right-wing war hawk wouldn't want that?
Professor De Genova -- A mole for the right! You heard it here first.
Update: Actually, you hear it here second, since this fellow thought about it first, about three days ago, as pointed out to me by Glenn Reynolds. See, that's the problem with coming to a topic a couple days late. Ah well.
Posted by john at 04:02 PM | Comments (4) | TrackBack
Visits, Blogging, Notify Lists
One of the unexpected side benefits of switching over to Movable Type seems to be that overall unique visits are way up: About 50% increase on work days and a 100% increase on weekends (which, by way of explanation, typically have fewer visits). The number of raw access is also way, way up, but that's a very unreliable guide to use, not in the least because I'm a pathological reloader of the Whatever page (It's the default home page for my browser and I open and close that thing about 100 times a day) which skews the accesses ridiculously. Unique visits is a more reliable metric, though of course not totally reliable.
I don't know that the increase in unique visits actually means that I'm getting more visitors; since at least some of the people who access the site use ISPs that feature dynamic or floating IPs (which change every time the user signs on), it could be the same number of people, just accessing more than once day because now I'm posting random bits daily at irregular intervals (ahem) rather than every couple of days. Be that as it may, it feels a little more lively in here, if only people are also now floating me 'tude in the comments. So who knows. Maybe there are actually more people visiting.
People have commented that they like the fact I'm posting more often, which is very nice for my ego, although I hope there's not direct quality/quantity ratio going on, in which the more I most, the more likely it is to be crap (which has been known to happen on occasion). Now that I've been fiddling with MT for about a week, I do suspect that my more increased updating will become a fixture, although by way of fair warning I do have to note that I formally begin writing my next novel starting tomorrow (and will be begin writing The Book of the Dumb shortly thereafter), so I wouldn't continue to expect the four-to-five post speed I've been going at recently, unless they're really short, very blog-like bits.
Which brings up, once again, the side issue of whether I'm now formally "blogging," since more than one person has applied the "if the shoe fits" rationale to me here -- if I'm updating more than daily while using software explicitly designed for blogging, shouldn't I reasonably be construed to be a blogger? My response: Could be. Honestly, if it makes you happy to call me a blogger, go right ahead.
However, I personally don't think of myself as a blogger because I think of myself as a writer. Which is to say, I think many people who blog are writers because one typically has to write in order to blog (although "v-blogging" could change that over time). Whereas if I do indeed blog, it's because it's just another way to write, and that's what my focus is. It'd be a little much to say I was an "accidental blogger," but I think it's perfectly correct to say that I'm an "incidental blogger."
So anyway, if you like, call me a blogger (or if you're from the previous iterative generation of online writing, call me a journaller). I'll just be happy to continue calling myself a writer. It's a good enough title for me.
A couple of people have asked if I wouldn't mind putting together a notify list, so they know when I've updated. I think MT allows for that, although I have to rumble through its guts to be sure. As a general thing, I myself don't sign up for notify lists (I prefer to visit people's sites and curse at them roundly when they don't update fast enough to amuse me), so I'm honestly kind of unfamiliar with how they work. So let me get back to you on that. I do know that if it's a whole lot more work, I'm probably going to be less inclined to do it. The whole point of moving to MT was to reduce the annoying aspects of updating, so adding more annoyances to the process isn't likely to appeal to my finely calibrated sense of slothfulness.
Posted by john at 02:07 PM | Comments (6) | TrackBack
Bad Interview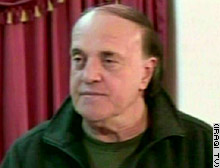 Ah, a prime candidate for an entry in my book on stupidity. Here's the quiz. You're a reporter, working for an American media organization (owned, incidentally, by one of the United States' largest defense contractors) in a war zone with an enemy giving the United States government fits because it won't just lay down and die. If you want to keep your job, should you sit down for an interview with the media of the enemy, knowing full well it's tightly controlled by the very man the United States is trying to decapitate via bunker buster, and say comments like the US "war plan has failed"?
a) Oh, absolutely.
b) Hmmm, probably not.
Peter Arnett chose a), and of course he was fired by NBC for doing so. As well he should have been. It's not a question of free speech (that concept having several levels of irony here because Arnett's in a war zone in a country where the leader would murder people for having incorrect thoughts if he could), it's a matter of simple common sense. Were I an executive at NBC, I would personally prefer to have someone working for me who has the presence of mind not to make like an ass at historically difficult times. Hell, even Dan Rather wouldn't have been able to pull off this maneuver; Peter Arnett, despite the Pulitzer in his pocket, doesn't even begin to rate.
Peter Arnett commented during his corporate-mandated apology Monday something along the line that he was just saying what everyone was thinking, but this is neither here not there. As I mentioned, this isn't about what he said, which was fairly obvious, but where he said it. That and the fact that Arnett was either oblivious to the fact of the propaganda value of having a prominent western journalist go on Iraqi TV and armchair quarterbacking like he was on a Sunday morning talk show, or wasn't oblivious to it, and decided to do it anyway. If Arnett wants to do that, it's fine, but he shouldn't have seriously expected his work contract to be there when he came back.
I personally have a hard time believing that Arnett could have been oblivious; he's not a stupid or a naive man, just a contrary one. Either he believed that NBC would keep him no matter what (and indeed, on Sunday, when the story broke, NBC News supported him, suggesting strongly that the decision to squash him like a bug came from executives higher up the food chain, who are less interested in journalistic privileges and more interested in not having their company tainted by an association with someone who doesn't care if he makes the company look bad), or it was just a matter of pure ego: I'm Peter Arnett! Hero journalist of the first Gulf War! I know all! I see all! I am untouchable! The third, and very real, possibility is that Arnett is actually just on loan to NBC (he's in Iraq for the National Geographic Channel, and was picked up by NBC after their people got the boot) and simply doesn't care what NBC thinks about anything he does. Whichever, the firing and the attendant slagging to come will hopefully be a bracing bit of perspective for the man.
It's also the sort of thing that, as to use the current military euphemisms, seriously degrades his capabilities. Corporate news is fairly tolerant of reporter's personal quirks -- the fact that Geraldo is still employed by a major American new operation when he is only slightly less freakish than Michael Jackson gives an indication of how laissez faire that market really is (Geraldo, incidentally, just got kicked out of the war zone because he draw a map in the sand pointing out where the 101st was headed. Speaking of oblivious). But this is probably the sort of thing corporate news organizations will remember. I don't know how high Arnett's stock was anyway (no offense to National Geographic, but it's probably not a first stop choice for most seriously journalists), but this doesn't help him out much.
At least in the US. It could revive his career in other markets. Maybe that's why he did it. Hmmm.
Update: National Geographic Fires Peter Arnett. Hope the interview was worth it, Pete.
Posted by john at 10:27 AM | Comments (12) | TrackBack
March 30, 2003
Just 49 Miles!!!
"Speaking on the CBS News program 'Face the Nation,' General Myers said he had full faith in the war plan, adding 'I just can't explain why people are sniping at it.' And Mr. Rumsfeld, speaking on the ABC News program 'This Week,' said, 'We're within 49 miles of Baghdad, and there are all these people hyperventilating that this isn't working.'" -- "U.S. Officials Vehemently Counter War Doubts," New York Times, 3/30/2003 (reg. required to read)
I find the "49 miles" thing to be really weird. Most people, confronted with 49 miles of anything, would round up to 50 miles for the purposes of conversation -- "We're within 50 miles of Baghdad," certainly sounds a lot more normal than "We're within 49 miles of Baghdad." It makes me suspect that Rumsfeld, et al are using the "49 miles" metric for the same reason that candy bars at the local Speedway are sold for 49 cents rather than 50 -- the idea that the number "49" is a rather more deeply attractive number than "50" for the purposes of selling something. As in, we're just 49 miles from Baghdad? Hell, that's progress!!!
It's probably just me, but I'd feel a lot more confident in the planning skills of our war planners if I didn't get the feeling they were trying to use the same psychological tools to reassure me of their progress in this war that Hershey and M&M Mars use to tempt me to purchase their empty calorie confections. I don't need the psychological sugar coat.
Posted by john at 06:44 PM | Comments (12) | TrackBack
Comment Thread Rules
Here are the rules as they regard posting in comment threads.
This is not a democracy. As Sylvester Stallone said in that classic of futuristic jurisprudence, Judge Dread, -- "I am the law!" (actually, Stallone says something like "Huhhhyeeehamdelaaaaaw!" But you know where I'm going). This is to say that I reserve all rights to edit and delete posts as I see fit. I am the sole arbiter of what is acceptable and what is not. There is no appeal. If'n you don't like it, don't post. Conversely, by posting here, you accept I have the right to edit and delete posts at my whim.
I don't typically expect I will take a strong editorial hand to the comments, because I expect that most people of reasonable intelligence will be able to voice strong opinions in a fairly coherent and polite manner, and if they don't, then their wild sputtering may at least have some entertainment value. However, the things that will typically rate an editing or a deletion include:
Overused and unoriginal profanity,
Phobic comments based on a person's particular race, sex, orientation, etc,
Physical threats,
Complete lack of relation between your comment and the topic at hand,
Astoundingly poor grammar and spelling -- yes, really,
Or if I just find you obnoxious beyond mere words.
In some threads, I may decide a particular argument between two posters has gone on long enough. When that happens, I will tell the combatants to take it into e-mail. I expect them to do so, and if they don't any further postings on the topic in question will be cheerfully deleted. I may also from time to time close comment threads because I come to the conclusion that the particular topic has already been worried to the bone and it's time for people to move on. When that happens, please go about your lives.
Typically speaking, so long as people refrain from performing any of the above deletable offenses, I'm not going to stop people from tearing into each other (or me) if that's what they want to do, because it's amusing to watch people try to find new and inventive ways of belittling each other. I mean, it'd be nice if people responded to each other in a positive sense, but I've been online for the better part of a decade, which is long enough to know that people probably won't bother. There's something about not having to worry about someone actually being in front of you and able to punch you in the face that brings out the, shall we say, less inhibited side of people's typing urges.
Thereby, I'm not going to go out of my way to try to stop them. That takes up too much time. Just try to keep things amusing for the rest of us. I'll let you know when you get tiresome.
[Update, 9/9/06]: One thing I'm finding increasingly annoying, particularly in political threads, are trolls who pop up, make a bad rhetorical argument, and then declare victory when I or others choose not to engage them and/or point out their bad arguments are not worth responding to. I'll give people some leeway to turn their bad arguments into good ones, but if I think the snark isn't going to go anywhere, I may ask the poster not to post in that thread any more, and if he (it's almost always a he) does, I may delete further posts in that thread from that commenter. Honestly, if you're going to make an argument, make a good one. Note that "bad" and "good" in this case relates to the structure of the argument -- I'm not at all likely to ask people to stop commenting simply because they disagree with me. I like disagreements. I especially like them when they're well-argued.
I do go through the comments frequently and try to respond on a regular basis -- not to every post, but to a fair number. I really enjoy good debate, sharp wits, sincere questions and a fun back-and-forth, even (and sometimes especially) with people who do not share my viewpoints. If you're smart, civil, and engaging, I'll probably like you, even if you and I cancel each other out in the voting booth. So bring it on -- tell me I'm wrong. I don't mind. Quite the opposite, in fact.
Having said that, people who want to score points off of me with their astounding wit and withering comments should be aware of the following salient point:
I don't care what you think of me.
I cannot emphasize this point enough. I honestly, truly and sincerely could not give a runny crap in a bucket about your opinion of who I am, how I live my life, what you think of my opinions, etc. That being the case, trying to flame me is really a waste of your time. At best, I'll grade you on your performance, since I enjoy a good flame (be aware that I have high standards in this area). At worse I'll simply ignore you.
The fact is -- and no offense -- you're just words on a screen to me. Therefore, your opinion of me is nothing I'll spend a lot of time worrying about. I've learned over time that nothing enrages a flamer more than a casual disregard of his opinion about one's self, so there's also the added attraction for me of watching such people fume when I take them rather less seriously than they take themselves. So, if you really want to amuse me this way, by all means go right ahead.
That's it for now. Enjoy posting!
Posted by john at 12:20 PM | Comments (6) | TrackBack
March 29, 2003
The War as Advertised
Dubya, Rumsfeld et al are half right when they bitch about the second-guessing they've been getting in the press. The half they've got right is that it's utterly ridiculous to judge how the war's going when we're less than two weeks in; it's like deciding you don't like an entire opera based solely on the overture. If we are going to judge then let's judge it as honestly as possible and note that as wars go, this one is pretty successful so far. Our casualties are low, we control much of the countryside (even if the cities are giving us fits), and while the mad dash across the desert has its disadvantages, such as Fedayeen taking pot shots at our supply lines, which themselves are currently stretched thin enough that troops are rationing their MREs, to my utterly ignorant military eye that's several hundred miles of desert these troops don't have to cross when the weather gets hot and mean, which I understand will be happening sooner than later. So all that's encouraging. The rumblings about the mechanics of the war don't sound particularly thrilling (especially this one, which seems like bad news all around), but strictly from the results end, it's so far, so good.
The thing is, the war we're having isn't the war we were sold. This is where the press and everyone else is justified in calling the administration on the carpet, all the better to hear the rrrrrhhhhmp sound of dress shoes backtracking. The administration line right now is that it never actually said that this war was going to be so quick that all the troops would be back home in time for baseball's opening day, but if it didn't (an assertion which isn't strictly true), it certainly went out of its way to imply it with extreme prejudice.
Put it this way: You go into your car dealership to buy a car, and the salesman steers you towards one of those sweet new Thunderbirds. You plunk down your cash and then go have lunch while they detail your new purchase. When you come back, they present you with a Ford Excursion, which can seat most of Fort Bragg in the back.
And you say, what happened to the car I bought?
And the salesman says, this is it.
And you say, I wanted the Thunderbird.
And he says, well, this one is much nicer.
And you say, sure, it's a nice car, but it wasn't what I thought I was getting.
And then the salesman rather testily replies that he never actually promised you could have the Thunderbird, so he doesn't see why you're complaining about it now. You get the Excursion. Take it and get the Hell off the lot.
In this war, we were promised a Thunderbird and we're driving off the lot with the Excursion. The Excursion may indeed be a fine vehicle, if you're into that sort of thing. But it's not what we bargained for, nor what we were led to believe we would get, and it's a perfectly legitimate thing to point that out.
And here you might say, caveat emptor, pal -- let the buyer beware. Maybe so. But at least when you buy a car, if it turns out to be a lemon you can send it back. This war we have to keep.
Posted by john at 07:51 PM | Comments (10) | TrackBack
Cavalcade of Comments I
I think it'll be fun to every once in a while highlight and comment on some of the comments I get from the various postings -- a way to let people know I'm reading while at the same time giving me a cheap and easy source of things to write about. It's the circle of life, friends. And it moves us all.
From the "Confederate States of Iraq" post, this comment from Henry:
In Vietnam, we overestimated the value of our technological superiority. We underestimated the persistence of the opposition. Our troops couldn't tell the difference between the civilians and the "bad guys", who used that to their advantage. And the people we were supposedly helping didn't want our help.
I'm not convinced that this war will end as badly for us as that one did. I do believe we are entering this one with the same assumptions. Who knows, maybe this time our assumptions are correct.
Well, as General Wallace so delicately put it, the enemy they're fighting in Iraq is indeed not the enemy they war-gamed for. And it's also very true that Saddam and his people are trying to get the US to fight the war their way, which to say in a way that de-emphasizes our really vast technical superiority and plays up their willingness to fight dirty (i.e., dressing up as civilians, using them as human shields, the car bomb which killed five US soldiers, etc) to our disadvantage. It's also pretty clear that even many of the people who hate Saddam are less than pleased to see us walking around in their backyard. For various reasons dating back to the first Gulf War, they don't trust our intentions.
For all that I don't know that Vietnam is a great analogy. I don't think the vast majority of Iraqis will shed a tear when Saddam is gone, and it's also a excellent data point to keep in mind that it appears that Saddam's more doctrinaire followers spend most of their time shuttling from one army group to the other, threatening the Iraqis who don't want to fight or try to surrender. Someone else somewhere compared Saddam's tactics with the ones the Soviet used at Stalingrad, during which Soviet solders who attempted to retreat from the Germans were shot by special Soviet squads who stayed behind for just that purpose. Now you know why the Soviets lost 25 million people in WWII.
I do think our Administration and our military are currently paying the price for initially overstating the ease with with our technological goodies would overcome resistance, and mis-estimating the disposition of the Iraqi people. At this point, in fact, the only clear winner in Iraq is Colin Powell, whose "Powell Doctrine" of overwhelming force at the outset is looking better and better with every headline about US forces at the ragged tail end of supply lines that are being harassed by Iraqi irregulars.
But at the same time I'd caution against understating the advantage technology is providing us. At any other point in time, in the same conflict parameters, thousands of civilians would be dead from bombing instead of the relative few that are now. That midnight attack by Iraqi forces against our people earlier this week would have been much more effective if our troops didn't have the night vision goggles to see them coming and to pick them out before they got to them. Our casualties in this conflict are very low, and much of that is due to technology doing the heavy lifting.
Over at the "PETA-ization of Protest" comments, Bill Peschel writes:
Steven Den Beste had a perceptive comment on his site about shenanigans like this. He believes it's not so much campaigning to change people's minds as it is the group attempting to perpetuate itself through rituals that create a bonding among the participants. PETA ensures its survival through publicity and making its members perform humiliating acts in public, in the belief that they're "speaking out," "making a statement" and showing they occupy the moral high ground (or Golgotha if you're in a really funky mood).
I'm pretty sure the entry Bill's referring to is here, if you're interested in reading it, although if you're new to Den Beste, be aware that it's in his classic form: A couple thousand words of introduction before he gets to his point. I like it (speaking as someone who often takes his time to get to a point) but it takes some getting used to.
I think the formulation Bill encapsulates in his comment is about half-right. PETA (and other protest groups of the same volume level across the political spectrum) do use their outrageous and nutty protests to draw attention to themselves and to recruit new members. However, I don't really think in those cases that the outrageous behavior is an explicit bonding mechanism because I strongly suspect that the sort of people who join PETA and like organizations are the sort of people to whom outrageous statements appeal.
In other words, you don't have to force your typical PETAn to splash red paint on a fur coat; he or she wants to do it already, and are just looking for a support group for to vent their urges. If they actually wanted to do some good for animals, they'd join World Wildlife Federation or the Nature Conservancy. It's very much like the sort of person who intentionally goes to an S&M club already self-identifies as liking S&M, and wanting to try it; now they're just looking for someone with a whip and a ball gag.
From the "Another Thought on Comments," Cowboy drops in the following, one suspects, because there is no other appropriate place to do so:
One thing I'd like to comment on is your view of southerners. Take your recent review of a Hank Williams Jr. CD in an issue of OPM for example.
You said something to the fact that (southerners) had never read the constitution, except for the second amendment. I myself, am from Texas..And I'll have you know that I have indeed read the constitution..and if it's ok with you I'll keep my damned guns too.
One more thing, you also implied that ALL of Hank Jr's songs had something to do with city people injecting heroin in their (eye sockets? WTF?) and stabbed people for spare change. He had only one song that even compared to that, and the only verse that had to do with a city person killing someone went like this: "..for $45, my friend lost his life."
I think if you're going to review music, and ridicule a specific type of people, you need to get your facts straight before you do so.
Inasmuch as many of you don't read OPM and don't have any idea of the review I wrote there, allow me to post it below, so you'll have context:
Hank Williams, Jr.: America (The Way I See It)
Hank Junior has always been the polemicist of choice of the big-buckle set, them folks what think they're the true Americans yet can't actually be relied upon to have ever read the Constitution either prior to or past the Second Amendment. So it's not entirely surprising to find America jammed with songs in which the country folk stand for everything that's good and true in our nation, while everyone in the big cities is injecting heroin directly into their eye sockets and stabbing everyone else for spare change. It's a simplistic and stupid way of at look at both urban and rural folk and also makes for a batch of truly annoying and lame songs. And, Hank throws in his Monday Night Football song. Kill me now.
Cowboy's first error is in assuming that "country" equates with "southern" in my mind; inasmuch as I live in the country (come down and see my neighbor's cornfield!), and yet live in the distinctly Union state of Ohio, I feel pretty comfortable in saying that it's an incorrect assumption to make. This is another case of it's not my fault if you don't bother to read what I actually wrote. Mind you, I would be thrilled if big-belt-buckled, small-brained, double-wide-dwelling jingoistic shitkickers only lived in the south, because I don't live there and then I wouldn't have to see them on a daily basis. Alas, the Sun Belt does not hold a monopoly on such types. Bear in mind I don't believe every one who lives in the country is like this, either. But you do find them here on a not-infrequent-basis.
In the second place, I'll stand by the review. This is a good place to explain the mechanics of writing a 100-word review: By its brief nature, I'm not going to go into detail about every nuance of every song -- indeed, I am going to be prone to some (hopefully amusing) exaggeration in order to get my point across. Cowboy is focusing on the fact that Hank doesn't actually have a lyric about someone jamming heroin into their eyeball, while missing the larger point that I'm using it to highlight the "rural vs urban" schism in Hank's songs, which is in fact played out across several songs on the album.
Since bad things happen in the country just as they do in the city -- see the "Murder in a Small Town" entry from just yesterday -- I don't have a problem pointing out Hank's self-serving Americana crap is in fact just that, and -- this being the main point -- beyond being thematically insincere, also makes for a pack of bad songs. I mean, if Hank had written another Nebraska, I'd be all about giving him the mad props. But instead I call it like I see it, which is that he's a button-pushing huckster going for the cheap sentiment. You don't have to agree with me, of course. That's the nice thing about opinions. They don't have to agree.
Also, Cowboy, I'm happy to let you have your guns. Enjoy them responsibly. I'm also glad you've read the Constitution, because I can think of at least one Texan out there who seems not to have bothered.
Mind you, Cowboy is correct that I have it in for some Southerners, specifically the ones who go about waving Confederate flags, since I think doing so is a sure sign of willfully induced brain damage. However, I have it in for a lot of different people, and Confederate-loving Southerners are merely one subset therein. I mean, in just the last couple of days I've whacked on liberal war protesters, prayer supporters, PETAns, think tankers and myself. I think it's pretty clear I'm an equal opportunity offender.
If this still bothers you, by all means, read my disclaimer. It should help clear things up.
Posted by john at 08:38 AM | Comments (11) | TrackBack
March 28, 2003
Lineup Change
Not that anyone cares, but I swapped out Romensko on my "Other" links with Penny Arcade! The online comic strip about video games. Why? Because I like it! Also, today's cartoon is yet another classic.
I have no illusions that I'll be, you know, boosting their visibility, since on the average day they get roughly 75 times the visitors I do. But it's not about that. It's about Penny Arcade! being damn funny.
Posted by john at 03:16 PM | Comments (1) | TrackBack
Murder in a Small Town
I live in bucolic splendor, but that doesn't mean bad things don't happen:
Two found dead of gunshot wounds at farmhouse
By Ben Sutherly
Miami County Bureau
ADAMS TWP., Darke County | Deputies found two people dead of gunshot wounds in a farmhouse bedroom Thursday after a 4-year-old boy showed up at a church a mile away with blood on him and said something was wrong with his grandparents.
The church the little boy showed up at is a couple miles down my street; I pass by it when I go shopping in Greenville. The dead appear to be the grandparents of the boy -- it looks like it might have been one of those murder-suicide things. Very sad.
Posted by john at 12:20 PM | TrackBack
Administrative Note
Because it seemed prudent at this juncture, I've added a disclaimer.
Posted by john at 12:13 PM | TrackBack
The Confederate State of Iraq
"The attacks we're seeing are bizarre -- technical vehicles [pickups] with .50 calibers and every kind of weapon charging tanks and Bradleys," Wallace added, referring to the M1 Abrams tanks and M2 Bradley Fighting Vehicles used by the Army. "It's disturbing to think that someone can be that brutal." -- "General: A Longer War Likely," Washington Post, 3/28/2003
Well, that's true, if one is actually trying to win a war.
But I suspect the Iraqi forces aren't trying to win, exactly. They're trying to do two interrelated things:
a) Cause the Americans and British delays to allow diplomatic outrage and political maneuvering, which will presumably work in Saddam's favor;
b) Set themselves up as valiant martyrs against the evil aggressors (that'd be us).
The first of these is pitched to the world at large, since there are apparently still people and nations who are under the impression that a ceasefire is possible. I think this belief is charming and sweet, but as I doubt that, short of an actual religious conversion, Dubya has ever changed his mind about anything, so the first point here is moot.
However, the second point is pitched to Muslim and/or Arab states and people, and I suspect that it's likely to have some appeal. A mindset that sees suicide bombing as a legitimate tactic is more likely to see three Iraqis in Toyota attacking an M1 as gutsy rather than just plain stupid. In the short term, such admiration is of questionable value, but in the long term, mythologizing the Iraqi resistance is one way to build an antagonistic identity among Arabs and Muslims across borders. And of course that'll be no good for the US, especially if we have it in our mind to go all imperial across the Middle East (which would be a bad idea, but that doesn't mean it's not being considered).
If you think fighting a losing battle with style doesn't have an enduring, long-term appeal that will lead a people to do stupid, self-defeating things decades and even centuries later, head to the American South sometime and listen to some its more ignit citizens give you a mouthful about the glory of the Confederacy and how awful that War of Northern Aggression was, and watch them pretzel up into wrathful, foaming anger when you suggest the Confederacy was a hateful, evil thing that's well put into the ground, stake through its heart.
Make no mistake, Saddam, in his way, is attempting to make the Iraq the Confederate South of the Middle East. If it takes stupidly sacrificing thousands of his people to do it, well, of course, he doesn't mind.
Posted by john at 11:15 AM | TrackBack
The Romulan Ambassador to TV
I don't think I've ever seen a picture of Richard Perle that isn't like this: Gob open, eyebrows arched, looking vaguely irritated that those at whom he is pontificiating can't understand the fundamental rightness of whatever bit of horrifying spew he's masticating on before spitting it up onto the desk of whichever Sunday morning talk show he's visiting. He's like the Romulan ambassador to broadcast television.
One wishes it were possible to travel back in time, not to wrap the infant Richard Perle's face in Saran Wrap before he could grow up into a soulless yammering neocon talking head, as you might suppose, but to provide him with a nice fuzzy stuffed animal or maybe a hug or two; Perle strikes me as one of those poor kids who came from a family where they believed emotional interaction was for pansies and Communists. I could be wrong -- it's entirely possible Perle is a quite amiable person to know -- but since Perle's inside-the-beltway knickname is "The Prince of Darkness," I'm pretty sure I'm on to something.
I don't know nearly enough about Perle as I should, considering he's one of the godfathers of the Dubya administration's foreign policy (which, boiled down to its mealy bones, seems to be "Screw you if you don't speaka the English"), but I know enough to know that I'm glad he appears to be on his way down the power slide -- he's had to resign his position as head an influential Pentagon advisory panel, apparently just ahead of the hounds, although Donald Rumsfeld (another candidate for time-traveling plush toys) is keeping him on the panel just the same. Be that as it may, he's taken a hit, and it's likely that in the short run at least he'll have to find something else to do with his Sundays than get miked by Tim Russert's pretty production assistants. One can hope, at least.
The reason I'd be pleased to see Perle tumble into oblivion is that he's the personification of what is so dislikable about the current crew in Washington: Yet another unelected yet influential career seether with undiguised disdain for people and viewpoints not grown like mushrooms in the dank feculence of a conservative think tank. I have a natural aversion to people who want to fiddle with the real world without actually having lived in it, and I have a deep suspicion that Richard Perle hasn't spent much time in the real world. A spell in it, or at least a whack from it, might do him some good.
Posted by john at 09:03 AM | TrackBack
Technology Report
The more I fiddle with Movable Type, the more I realize how stupid easy it is to use (which is, I suspect, why so many people use it). I am having to roll my own coding whenever I want to insert a picture or other non-trivial HTML thing, but so far that's not a real problem, since I don't do anything particularly complicated. Anyway, it's sort of like going back to 1994, when the Web editor was notepad, and if you wanted to upload your Web page, you had to know UNIX commands. Chmod this, pal.
One thing I've definitely noticed about Movable Type, however, is that it's not exactly compact in terms of the information it serves up. A full day of people access the MT version of this page sends means my servers sends out roughly twice as much data as when I was posting in pure HTML. Part of this may be due simply to the fact that for the moment I'm writing slightly more, but even on a "per unique visit" basis it's much more data. I'm unlikely to bump up against my bandwidth limit (it's at 15GB a month, and even at double the data throughput, I'd get nowhere near that), but now I understand why some of the more popular sites get hit hard.
And because all the updates are handled through the Web, it's wreaking havoc on my ease of reading referrer logs, since everytime I update there's a huge plug of my own information in there. I used to walk lightly through my own referrer logs. Now I'm splayed everywhere. This isn't something anyone but me needs to worry about, but since I enjoy combing through the referrer logs to see what horrible things people are saying about me on their own sites, it's now slightly more of a slog.
I've also started fiddling with an RSS newsreader, which is interesting although I'm not quite sure what the utility is. I get the idea that it pulls down information for you so you don't have to wade through someone's Web site, but I like wading through people's Web sites. Maybe I'm missing something.
Thanks also to the people who have posted comments or sent me e-mail about installable spellcheckers; I do appreciate it.
One final minor quibble about MT is that it's easiest to use and update (in Windows, anyway) through IE -- if for no other reason than that through IE, you have the little buttons that in the HTML code for bolding, italics and underlining as well as URL codes. Trying as I am to swear off Microsoft products whenever possible, this means I dip back into Bill's Browser everytime I want to update. It's no big thing, as I said, but I'll look forward to an update that allows full functionality on Mozilla.
No, I don't expect you to care about any of this. This is why the page is called "Whatever," you know.
Posted by john at 07:56 AM | Comments (3) | TrackBack
March 27, 2003
The PETA-ization of Protest
I endorse and applaud Americans who want to protest the war, since even though I don't agree with their point of view on the matter, it's always nice to see people exercising their First Amendment rights so they don't get flabby and weak. Having said that, walking out into the middle of a Manhattan intersection to play dead strikes me as a very effective way to actually get dead, when some Teamster with a kid in the 3rd Infantry decides to protest your protest by parking his truck directly atop your spleen, and everyone around him gives him a great big cheer for doing so.
It also bothers me as someone who sees civil disobedience as something that can be transformative if used effectively and rarely, and thus should be used so. Being black and asking to be served at a lunch counter in 1960s Alabama takes guts of steel; being a overprivledged yuppie spawn parking your ass in the box at 50th street and 5th Avenue to snarl traffic is merely irritating to others. It's the PETA-ization of protest; the vain hope that if you piss people off enough, they'll finally come around to your point of view. I can't speak for anyone else, but all PETA makes me do is think about having another hot dog. It's not that I really want another hot dog, but I know it'll just piss off some humorless PETAn to no end. Live by the sword, die by the sword, or, in this case, tube of rolled-up pork snouts and beef rectums.
(Bear in mind that this is not specifically a left-wing sort of thing, as the jerkoffs lunging at scared women in front of abortion clinics make amply clear.)
"Nothing else gets attention," protester Johannah Westmacott told The Associated Press, explaining the civil disobedience. "It's not news when people voice their opinions."
Well, of course it's not, Johannah-with-too-many-"h"s. We do happen to live in a country where everyone can voice their opinion. It is a thankfully and delightfully common occurance. The implication Ms. Westmacott is making is that her particular opinion is so important it deserves to snarl traffic. In fact she doesn't rate. Right down the street I've got a couple dozen Amish whose anti-war opinions I respect a great deal more than I do hers. They're not collapsed into the road, daring someone to hit them. They're simply living their beliefs.
I do wonder how many people blocking traffic this afternoon are registered to vote. Now, there's a protest that matters.
Posted by john at 09:43 PM | TrackBack
Another Thought on Comments
Here's my going line on comments v. e-mail:
If you post a comment, I'm going to feel free to comment on it publicly, since, after all, it's a public comment. I'll either respond in the thread or if it's especially interesting to me, make an entry out of it.
If you send me an e-mail about something I've written, I'm going to assume it's private communication and will respond in e-mail only unless you've specifically noted it's available for public comment and/or I've asked you to allow me to mention it and you've agreed.
So: Comments -- public. E-mail -- private. Either way, it'll divert me from work. Mmmm... short attention sp-- look! A pony!
Posted by john at 03:12 PM | Comments (4) | TrackBack
How Long How Many
Ooooh, I like the comments feature. It's so immediate feedback-rific!
From the comments in "What You Don't Want to Hear," this comment:
"Your post begs the following questions:
"If our war planners underestimated Iraqi resistance, have they also been overconfident about how easy it will be to occupy Iraq after the war?
"How many American troops will have to remain in Iraq to keep the peace, and how safe will they be?
"I've been more worried about that than the actual war."
Both of these are excellent questions, and quite obviously, the best answer I can give is that I have absolutely no idea to both. I think it's well possible that our military may have indeed initially underestimated what will be required after the hostilities cease, but unless the people in charge of the military are learning-impared (which I don't suspect), they're revising their initial estimates and that right quick. Our military is many things, but stupid is not one of them.
We have an obligation to rebuild Iraq, so we shouldn't be in such a rush to leave, but at the same time I don't think he need to be lingering on for years and years, because I think the longer we stay, the more resentful Iraqis are going to be; it appears a lot of them are already resentful as it is. Some people might wish for this to be the beginning of some American empire, but I'm not one of them, since if you haven't noticed, all empires end pretty badly.
I'm not in a position in one way or another to guess on timetables and numbers, in terms of how much time we should be there and how many soldiers should remain, since I'm just some schmoe in Ohio. But "As little time and as few soldiers as possible" always sounds good to me. We help them rebuild, we help them get a working government they're happy with, and then we say bye-bye. You don't build allies and functional governments by hanging around longer than necessary.
Posted by john at 03:05 PM | Comments (1) | TrackBack
Dear God, Save Me From Your Followers
I don't know how we managed it, but we're on the call list for the National Coalition for Prayer, a group which, as you may imagine, is comprised of people who think prayer is pretty neat and that everyone should do it, although it's unclear whether they care whether you want to do it or not.
We've asked to be taken off their call list before, but they are somewhat persistent, Ohio is one of the states that doesn't happen to have a "Do Not Call" law, and they're a non-profit organization, which is one of those little gray areas in the whole "Don't Call Me" legal landscape. I suppose it's nice to know that they haven't given up on me yet; they seem to believe that I might yet pray. And I might, but only for a nice lightning strike on their call center.
I don't have a thing against prayer, but as with so much relating to religion, I find that some of the people who do the praying stick in my craw. Especially the ones with a real sense of religious entitlement, and get snooty about it when you want to point out you have just as much entitlement not to have religion. As in this particular case, when the telemarketer got huffy because I asked to have my number removed from her calling list.
"Why?" She wanted to know. "We're just a non-profit organization committed to restoring our nation to God."
"Well, aside from the whole Constitutional 'Separation of Church and State' thing," I said, "I just don't want to be on your list." They never know what to do with the people who are sticklers for the Constitution, you know. It's such a vexing document that way.
I doubt seriously that I'll be removed from the list, of course. They haven't done it yet, no matter how politely we ask. The next time I'll just burble on happily how much I love prayer; why just the other night, at the meeting of my coven, I was praying to Beazelbub himself to smite those nasty meek little Baptists down the street. And then we sodomized some goats, because, really, what's prayer without a little goat sodomizing? And of course I would love if more people prayed with me. So many goats, so little time.
I figure that'll work.
Posted by john at 02:36 PM | TrackBack
What You Don't Want to Hear
"Overhanging all developments in the war this week is the unsettling realization that thousands of Iraqis are willing to fight vigorously. During planning for the invasion, worst-case scenarios sometimes predicated stiff resistance, but 'no one took that very seriously,' an officer said." -- "War Could Last Months, Officers Say," Washington Post 3/27/2003
I'm not at all surprised that the war could last months, because I just tend to be naturally pessimistic about these things; I'm a big proponent of believing anything that can go wrong will go wrong, and it's best to factor in things going wrong. However, I do find it mildly troubling that I called the matter of Iraqi resistance better than the military planners have; as I said about a week ago:
"One of the great temptations with overwhelming superiority, however, is to belittle and underestimate the enemy. An analogy to use here is a kid cornering a frightened hamster in a Habitrail. There's not a doubt that the kid will have his way with the hamster, but the hamster still has teeth, is still frightened, and is liable to make the kid regret forgetting those two important points with a well-placed and painful bite between the thumb and the forefinger."
At the time I made the assumption that the military had well factored this, but now I'm wondering if they really had. In particular, I wonder why they assumed there would be a huge popular uprising against Saddam; the last time we encouraged the Iraqi people to rise up against Saddam, we rather inconveniently left the man in power and offered them no help, which means the man slaughtered those who rose up by the tens of thousands. When you've been clobbered by sticking your head in a hole, you don't stick your head in a hole a second time.
Mind you, it's not a question of whether we win the war; time and material are on our side, as Saddam and his people are not exactly in a position to resupply or call in new troops. And our military is both capable and adaptable and will reconfigure to deal with these issues as they arise.
But would that the people who planned this war had been slightly more pessimistic in their assumptions. It's not a coincidence that the acronyms "SNAFU" and "FUBAR" both come from the military, after all -- it's institutionally well aware of how even the best-laid plans run afoul. The question worth asking is if the plans we had going even had the advantage of being "best-laid."
Posted by john at 10:07 AM | Comments (5) | TrackBack
Anonymous Comments
As a quick FYI -- I've set the preferences to allow anonymous comments. I do of course prefer that people let me know who they are, but I'll try it this way and see how it goes. As a fair warning, however, anonymous postings are fair game for deletion if they annoy me. I don't suspect I'll delete critical comments if they're signed, since I can totally respect people who say what they want to say and don't worry who knows they're saying it. But hit-and-run anonymous slaggings don't deserve the same standard of respect. Anonymous praise, of course, will stand. Because I'm just like that.
Posted by john at 09:38 AM | TrackBack
That God Moment
Athena finally got around to asking about God yesterday, and it was Krissy who fielded the question. She and Athena were talking about something else entirely when Athena asked why some people went to church. Krissy told her that people go to church to pray to God. To which Athena asked, naturally, who God was. Krissy said that some people believed that God was someone who made everything, including trees and the sky and people.
To which Athena said, "Well, I thought people made people." Which is, of course, exactly right, at least in the immediate, material production sense.
So I think the moment went well, both in Krissy's response and Athena's logically skeptical reaction to an assertion that flies in the face of existing evidence. She's using her own little noggin, and of course that pleases me to no end. I've no problems with believing in itself (it's what people believe that usually causes me irritation), but I think thinking is a better default setting all the way around, even (and especially) for a four-year-old.
Posted by john at 09:32 AM | TrackBack
March 26, 2003
Contracts
Almost exactly three months after the agreement in principle, I'm looking at my contract with Tor books. The delay, incidentially, was not really due to slothfulness on the part of Tor; when I went out to New York at the tail end of January there was a contract ready, but I had a few clarifications I wanted to have made, and the company was pleasingly obliging. Overall, the contract negotiations were quick and painless; heck, they didn't even ask for my first born (which is well and good, since she's already been lent out to Rough Guides).
Typically speaking, authors shouldn't be handling contract negotiations for the same reasons barbers shouldn't try to repair toasters; it's not really in the job's skill sets. This is why one has an agent, after all. However, in this particular case my agent doesn't handle fiction, and the sums of cash involved were modest enough (it's that first novel thing) that I felt comfortable that I couldn't screw myself too badly. It helped that I have walked through book contracts before with my agent; those contracts were for non-fiction books, and this one was for fiction, but many of the nitty gritty details are the same sort of stuff. (Mind you, I'm currently in the process of getting an agent for fiction; like many things, walking through a contract is one of those things that's interesting exactly once, and I have no interest in becoming expert enough to do it on a regular basis.)
In addition to the big stuff (like, how much you get paid for your advance and when), contracts cover a lot of smaller details as well: How many free copies you get, for example, to foist on friends and loved ones, and how much you'll have to pay for copies after that; the various rights you're letting the publisher have, which include several media, such as microfilm and cartoon strips, that you'd probably never think about on your own; and even boilerplate that covers what should happen if the publisher really wants to print your book but can't because an unfortunate tsunami has washed away the corporate headquarters. Clearly some of these clauses can border on the ridiculous. But on the other hand, no one expects a tsunami, and yet they happen nonetheless. Be prepared, say the Boy Scouts, as well as the lawyers they grow up to be.
(Incidentally, those of you who paid to get a download copy of Old Man's War, those things are officially collector's items, since the contract makes me agree to cease all electronic publication. Enjoy!)
I'm personally excited to sign the contract, although not because I'm looking forward to the advance money. I mean, I am, don't get me wrong (baby needs new shoes. And a pony. And graduate school). But mostly I'm itchin' to sign the contract so that I can finally join SFWA -- Science Fiction (and Fantasy) Writers of America. To be entirely honest, I have no compelling practical reason to want to join, since I can't imagine what I would want SFWA to do for me; I'm unlikely to use its emergency medical or legal fund or its other services, and while it'd be swell to vote on the Nebula Awards, it's not something I stay up nights dreaming about.
I just want to be in it because in its own incredibly geeky way, it's just a very cool idea. If you're the sort of dreamy shut-in who writes science fiction in the first place, what not to like about consorting with your own kind? At least you know they won't laugh at you (at least, not for writing science fiction). Really, I can't wait. I've already got the application downloaded. All I have to do is sign the contract, and I'll be eligible. Hold on a sec --
There. Signed. Now I'm official. Somebody get me a Nebula ballot, already.
Posted by john at 10:55 PM | Comments (8) | TrackBack
Link Notes
Long time readers of the Whatever will note that for the first time in a very long time, I'm including links on the page (links that are not part of an entry, that is). I'm intentionally keeping the number of links very low, for a couple of reasons. First, creating a list of links is a real pain in the ass, and secondly, I want to reflect the blog/journals/whatevers I actually visit on a more or less daily basis, rather than an orgy of links. Many other people do that (and include my own site in their copious lists, for which I say: Thanks!), but I prefer to keep things short and simple.
For fun, here's a quick explanation of the categories.
Daily Blog Hit List -- Quite clearly, the blogs I visit every day. There are some very popular blogs here, InstaPundit being the most obvious; maybe someone else would post more obscure blogs to boost their hip quotient, but the fact is that while most sites I'll hit maybe once or twice a week, these are the ones I actually visit every day, often more than once. I'd advise against trying to guess my politics from this line-up, incidentally, since they don't track. In the case of James Lileks and Patrick Nielsen Hayden, they're there because they're people I know personally; Steven Den Beste is there because I find his posts fascinating to read on several levels, and Metafilter is there because it's so darn random. Glenn Reynolds is at this point all but unavoidable, but that's because he does a fine job being the top ganglion in the Blog Brain, so more power to him.
Old School Journallers -- These people were writing online before the term "blog" hit the mainstream; all of them go back to the stone age (i.e., 1998) if not earlier. I know almost all of these people personally; they're either friends in real life, or I have known them online for quite some time.
WebbBlogs -- Blogs and journals of people who went to the Webb School of California (or, in the case of Katie Granju, the Webb School of Bell Buckle, TN). With the exception of Ms. Granju, I know all these people personally; Josh Marshall and I graduated in the same year (1987, in case you were wondering).
Other -- Catchall category, pretty clearly. glenn macdonald runs a music review site I greatly admire, while Rick McGinnis writes several intermittent blogs on movies, Canadian culture and life in general. Romanesko is a hangout for journalists, and BlogCritics I include because, aside from it being an interesting site, I also happen to own one of the domain names that connects to it. I don't know Chad Orzel, but I like his site, so why not.
There you have it, my links in full. If you're not linked to, please don't take it as a slight. I love your blog, honest. And I'm open to bribery.
Posted by john at 09:03 PM | TrackBack
The New Whatever, Part II
Okay, here's why I changed over to Movable Type.
1) It's free. Although I suspect strongly I'll be sending along some money to the people who created it, because why not.
2) My pal Bill offered to install it for me, thus allowing me to avoid (mostly) a show of my own total and irredeemable stupidity when it comes to all things software. I make no bones that I'm barely qualified to change the color values on the Movable Type CSS scripts; if I try to do more, something is sure to explode (probably a vein in my head).
3) It posts and archives simultaneously, which is one less thing for me to do.
4) Finally, it does various things (like set up comments and RSS feeds and what have you) that I wouldn't particularly care about if I had to set them up myself, but which I think are kind of cool if I don't have to bother with the heavy lifting.
The major drawbacks to MT that I can see at this point are that the software lacks a spellcheck (which means my spelling is about to become a whole lot more awful around here), and that if my Web site should ever collapse, there goes a whole bunch of writing. I could take preventative measures in both cases, but if you've noticed a running thread in this entry, it's that I am dispairingly lazy. So more misspellings and a reliance on Google's cache are sure to be in order. I don't know what I'll do if Google stop caching. I assume it will be because the apocalypse is upon us. In which case, cached Web pages, or lack thereof, will be the least of my problems.
Someone has already been kind enough to formally welcome me to the Blogosphere (if you use blogging software, you are by implication at least blogger-esque). I appreciate the thought, and I do expect I will probably start posting some more shorter, blog-like posts now, simply because it's no longer a pain in the ass to do so. But I imagine I will still largely write the longer-style inteminable ramblings you've all come to expect from my fevered brain, if for no other reason than that's what I've been doing for five years now. I'm old! I'm cranky! I'm set in my ways!
Anyway, enjoy the new look and surroundings, and feel free to use the comments section and whatever else. However, don't get any smudges on the wall. I want this place to look new for at least a couple of days. Okay? Okay.
Posted by john at 05:58 PM | Comments (2)
The New Whatever
Hi there. Yes, I've made an executive site-editing decision to go with Movable Type. I'll explain more in just a little while. But for now -- welcome to the new digs. Adjust your bookmarks accordingly, and tell everyone you know to do the same.
Update: Arrgh -- as I am a complete incompetent, I've managed to erase most of my previous March 2003 entries (this was a parting shot from the evil Front Page software, I assure you). Rest assured I will track them down and reconstitute the missing articles; in the meantime, here are the Google cached versions. All hail Google, the kindler, gentler Total Information Awareness.
3/12/2003 -- More Software Thoughts
3/14/2003 -- Book on Stupidity
3/17/2003 -- House Rules
3/19/2003 -- Antebellum
3/21/2003 -- Oscars, Feh
That should do it for now.
Update Update: The Google Cache entries have disappeared. It's a conspiracy!
Posted by john at 04:55 PM | Comments (3)
Book is Here; Oscar Wrap-Up
First, a personal note: I got my advance copy of The Rough Guide to the Universe yesterday; you can see it modeled by my beautiful assistant just to the right of this text. Notwithstanding one minor flaw (there are a couple of places where metric units should be alongside more familiar imperial units like miles and degrees Fahrenheit and aren't -- not that it'll matter to those of you here in the US), it looks really nice. If you're in the UK, you'll have it on your shelves in a couple of weeks, while here in the US we'll have to wait until May. Hopefully the universe won't change too drastically by then.
In case you're wondering what it's like to hold a book that's actually written by you, let me tell you: It's very cool, similar to (but, I'll be the first to admit, on a substantially lower level) the feeling you get when you hold your child for the first time -- that whole I can't believe it's actually here thing combined with the wow, I made this thing. The major difference, of course, is that one's actually a child, and the other is actually a book, and someone who gets as wrapped up in the latter as much as the former needs to get out more. Also, you won't have to pay for your book to go to college, or worry that it's going to marry a jerk one day. Even so, it's neat.
***
I went 4 for 6 for my Oscar predictions, which is slightly worse than I usually do, but slightly better than I expected this year, because I haven't been paying attention. Moreover, I don't feel at all bad about the two I missed -- Adrien Brody as Best Actor and Roman Polanski as Best Director -- since no one expected either of them to walk away with the hardware. Especially Polanski, of course. However, in this particular case, it probably didn't hurt Polanski that the woman he had raped with when she was a girl wrote an article in the LA Times saying she thought the Academy should just go ahead and give Polanski the Oscar. As they say, you just can't buy that sort of publicity. One wonders now if Polanski will be allowed back into the States; when even the rape victim has publicly backed Polanski, the position of the LA District Attorney that the man should go to the big house might appear to be churlish. Not incorrect, mind you, just churlish.
Also, of course, I pegged the Bowling for Columbine win and Spirited Away; the former was not a surprise, but the latter was, at least to a number of media, who assumed that it would go to Lilo & Stitch because it's Disney, and it was a big hit. But this is one time when Academy members differentiated between fun and competent (L&S) and an actual work of art (Spirited Away). Also, it's the highest grossing film in the history of Japan, and 100 million anime fans can't be wrong. The Spirited Away win is also good news for the Best Animated Film Oscar, since the choice of art over popularity (in the US, at least) legitimizes the award as something other than an opportunity for Disney and Dreamworks to pad their Oscar tallies on alternate years.
As for Columbine, as I said, I don't know why anyone's surprised about its win. Aside from its worth as a film (which is not inconsiderable, although it's not really accurate to call it a straight-up documentary), it was a prime opportunity for Academy voters to make sure a political statement was made on Oscar night without jeopardizing the image of Hollywood at large -- after all, it would have been surprising if Moore hadn't have gone off on Bush. And it's just the Documentary award. It's not like Nicole Kidman went up and said "shame on you, Mr. Bush." It's like inviting the proverbial bull into the china shop. You know something's going to get smashed. And maybe that's what you want to have happen.
Posted by john at 04:19 PM | Comments (2)
March 10, 2003
Music Plug; HTML Editor Update
A couple of random notes, which may or may not be of interest to you.
* My pal Joe Rybicki has a band called Johnny High Ground, and he's written a tune that's well likely to become the rock anthem for the "no war" crowd, called "Trigger-Happy Texan." You can guess who it's about. Putting on my music critic hat, I think it's both tuneful and thoughtful, and doesn't let its message get in the way of being a song you'd want to listen to. So I recommend it to everyone, even if you're under the impression Bush actually knows he's doing (or, alternately, if you think Bush hasn't a clue what he's doing, but don't mind popping Saddam).
It's here -- scroll down to the bottom of the page for the streaming audio (there's a hi-fi and lo-fi version).Then hop up and down and make your own mosh pit right there at work. Your boss will love you!
* A couple of weeks ago, I declared the end of my use of Microsoft products, when/if there was a viable alternative product -- the cause for this being a ham-handed maneuver by MS to block me from using my copy of Front Page 2000 (it wasn't personal; they'd block anyone in my position apparently). The sort-of boycott is still in effect, although it's not without its difficulties. For example, the simple matter of finding a viable alternative HTML editor has been something of a headache.
The fact is that I don't need a particularly sophisticated editor -- the code on this site is kept intentionally clean and minimal, because I'm not the sort of person to geek out for hours on it, and because on occasion I like to change the look of the site. Front Page was in fact much more editor than I needed (I got it specifically for its ease in putting in headers, so I wouldn't have to create a new one for every Web page I created).
This means that it doesn't make much sense for me to spend hundreds of bucks to shell out for another massively full-featured Web design product, of whose features I will end up not using 99%. But the flip side problem of this is that most really basic WYSIWYG editors are kind of crappy and kludgy -- really no fun to work in.
This was surprisingly the case with Mozilla's built-in HTML editor, which is, sad to say, truly poorly designed. For example, Mozilla's html editor doesn't let you select something as simple as a font, and that's just really stupid (alternately, it may, but the point of fact is you can't do it easily, with a drop down menu or whatever. If a feature is not immediately obvious, one can argue it's not really a useful feature). For another, it doesn't have a spellcheck. I may write for a living, but my spelling stinks, and I'd prefer not to make that any more obvious than I have to.
My immediate solution is to go back to an HTML editor I know has the features I want without the headaches I don't -- the "Composer" feature on the Netscape 4.6 client. I think it's a little sad that I have to reach back three years to find a suitable HTML editor, but I don't know if it's sad because there's no decent basic WYSIWYG html editor available today, or because I'm so pathetic in my Web design that I have to use a clunky old editor in order to feel comfortable.
Some people have suggested that I get with the 21st century and use one of the Blog generators, such as Blogger or Moveable Type, but I'm fairly unmoved by the ones I've seen. As I understand them, both those (and other similar products/services) would route my content through an unrelated site in order to be updated, and that's never any good. Also, I've used the Movable Type interface for Blogcritics, and I just don't like it. That's the problem with being picky. The benefit of doing that stuff is then I could take advantage of the latest stuff like RSS and XML and blah blah blah, but as you can guess I pretty much fundamentally don't give a crap about anything like that. People find the site just fine, even with basic HTML.
Fact is, I just want something I can type into, upload, and then forget about. The whole point of doing this stuff is that it's easy to do. If it's not, then why bother?

Posted by john at 05:00 PM
March 07, 2003
Mr. Nice Guy
There's no pleasing some people. I spent yesterday's Whatever slagging Dubya, and the mail I get pounds on me for a throwaway comment I make about Dubya probably being a nice man (I specifically wrote: "I don't doubt Dubya's a nice man and not traditionally what one describes as stupid, but his thought processes are shallow and stagnant, like week-old water in a unused kiddie pool."). Apparently calling the sitting President the most incompetent resident of the White House since Warren Harding, and doing so in an interesting and creative way, isn't enough. One has to maintain he's soul-warpingly evil as well, just the sort of guy who takes welfare babies, strangles them with wire, runs their tiny corpses through a deli slicer, pan fries the cold cuts and then feeds them to his Rottweilers, which he's kicked for three hours a day since they were puppies in order to make them extra vicious when he sics them on poor, wrinkled Helen Thomas at the next White House press conference.
Sorry. Can't do it, because I don't think Dubya is that guy. I would suspect that on a day-to-day basis and in his personal encounters the man is normal enough, which makes him, like most people, a generally nice person to be around. I'm also sure that, like most people, he has his moments of irritability, neuroses, and supreme dickheadedness, which unfortunately for him are played out on the world stage and make for good news, while the rest of us get to have our moments of incivil stupidity in relative obscurity. One correspondent, in listing Dubya's not-nice crimes against humanity, noted to me that the man is reportedly given to irrational bouts of rage. Well, maybe he is. On the other hand, yesterday I beat a malfunctioning phone to death with a hammer. So maybe I'm not the best person to judge someone for their irrational bouts of rage. And anyway, hammering my phone to death does not make me any less nice (except, in a very narrow sense, to malfunctioning phones). Yes, yes, where I hammer a phone in a fit of pique, Dubya can bomb a country. But I'm reasonably sure they'd bring in Colin Powell to hose him down first.
Dubya's nice. Bill Clinton was nice, too. All of our recent Presidents have been nice enough people, in the generally accepted sense of the term; you have to go back 30 years to Nixon before you find a genuinely unpleasant occupant of the Oval Office (Johnson was apparently no prize, either, but at least he was a principled son of a bitch rather than fetidly paranoid, as Nixon was). Our Presidents are at least superficially pleasant people because as a nation we are at least superficially pleasant as well; people who are actively unpleasant generally make us uncomfortable. While unpleasantness may work on a small scale (note the number of truly feculent members of the House of Representatives), at a national level, gross non-niceness is a serious liability.
Dubya-haters want him to be evil because they perceive his policies to be evil: A nice guy wouldn't invade Iraq or deprive children of school lunch money or take a weed-whacker to the Constitution and so on. The problem with that formulation is that it's totally wrong; nice people do these sorts of things all the time. On the extreme end of it, you have Arendt's banality of evil or Milgram's zappers: Otherwise normal, nice people doing horrific things to other people because they either don't see or choose to ignore the far-reaching consequences -- or they don't see the consequences as being wrong.
Most of us don't take things that far, but the principle is the same: Fundamentally, there's no connection between whether someone is personally nice, and whether they pursue an agenda inimical to what you perceive as desirable. On a day-to-day basis, evangelical Christians are some of the nicest people you'll ever meet, and yet the bland, theocratic, prayer-at-Friday-football-games and stadium-church-on-Sunday America many of them want to foist on the rest of us is something I know I'll wearily spend the rest of life fighting against. By the same token, I'm sure that most evangelicals would find me genuinely pleasant to be around, since like most people I'm friendly enough, and I prefer people to be comfortable in my presence. But that's not to say they won't recoil in horror against my position that gay people should be able to marry, evolution is scientific fact while creationism is a fairy tale and both should be taught as such, and that a woman should get to evict an unwanted occupant of her womb if that's what she wants. We're all nice people. We just disagree vehemently about details.
Fact is, I have very little tolerance for the "If you disagree with me, you're evil/sick/just not nice" line of thinking. Rhetorically, it's boring. There simply aren't that many people walking around the US being evil on a daily basis, evilly buying groceries, evilly watching Friends, evilly having routine but pleasant married sex, and evilly putting their head on a pillow to dream of evil, evil, evil. As a society, we're not nearly that dysfunctional. But more importantly, it dehumanizes those whom you disagree with, and that's a dangerous thing. The process of dehumanization is subject to Newton's Third Law -- you can't dehumanize someone else without dehumanizing yourself in the bargain.
I'm not in that much of a rush to dehumanize myself, thank you all the same. Anyway I'm perfectly capable of holding the thoughts of "You believe things I don't" and "You're not a bad guy" in my head without the fear of doublethink because they're not in fact automatically mutually opposing statements. I would suggest that if you believe otherwise you're probably rather intellectually lazy and you prefer to idealize those who oppose you as flat, uninteresting cardboard representations of evil rather than as interesting, capable, nice human beings who must be considered as such if you wish to overcome their positions or find some sort agreeable accommodation so you can both keep living your life with some reasonable measure of felicity. Which means you'll always be at the disadvantage. And that's just kind of stupid.
You're free to disagree with me, of course. I'm sure you're otherwise very nice.
Posted by john at 05:05 PM | Comments (2)
March 06, 2003
Incompetent
The fundamental problem with the Bush Administration is that it appears to be working from the position that being right excuses being incompetent. This presents two problems. First, when it happens that the administration is right, as it is in wanting Saddam removed at the earliest available opportunity, it blunders about being right in such a way that others would prefer to be wrong rather than to be in its company.
We like to think the peasant revolt currently underway at the UN is simply a matter of formerly-significant states trying to stack up on top of each other, Transformer-like, to create a single powerful-but-evanescent entity to thwart the US for fun and future Iraqi oil revenues. But it has just as much to do with an absolute distaste for Dubya and his administration's methods. Let's be honest enough with ourselves to admit it takes a special kind of stupid to drive otherwise largely rational allies to prefer to be seen to side with a gleefully genocidal murderer than with you. I fear for the fact that the Bush administration wants to promote the development of hydrogen engines; if it goes about promoting the program like it's handling Iraq, we'll be stuck sucking oil out of the Arabian peninsula for another three centuries.
The second problem is that when the administration thinks it is right but is not (a condition that encompasses roughly every other aspect of its thought-making process aside from the two mentioned above), we're stuck with it being merely incompetent, and that's no good for anyone. Bill Clinton was famously obsessed with his ranking among Presidents. I don't suspect it will ultimately be especially high -- as two termers go he's right up there with Grover Cleveland -- but he can take comfort in the fact that at this rate Dubya's going to rank somewhere near Franklin Pierce, who as these things fall out was about as bad as you could be without being James Buchanan.
This is, of course, a tremendously depressing thing. It's never an especially good time to have an incompetent rubbing against the furnishings of the Oval Office and marking it as his territory, but some times are better than others. Warren Harding was a monumentally bad President, but he was also President during a time when he (or his thieving cronies, which is more to the point) couldn't do a tremendous amount of lasting damage.
Alas, today is not one of those times, and in any event Dubya and his pals aren't the sort to be content with mere graft. They're not crooks (though they like their stock options), they're ideologues with a deep and abiding moral clarity, both economic and religious, that's dreadfully inconvenient to those of us who prefer that moral clarity not trim away our budget surpluses or, come to think of it, so many of the basic freedoms afforded to us in the Constitution. Bush's administration would never be good one, but I wish we lived in a time where it could at least be harmless. This isn't that time.
I've never been a fan of this administration. I don't doubt Dubya's a nice man and not traditionally what one describes as stupid, but his thought processes are shallow and stagnant, like week-old water in a unused kiddie pool. It's painful to watch the members of his administration with the capacity for subtle thought twist themselves like pretzels either to get him to comprehend the world's complexities, or to explain their bosses' clear but tragically uncomplicated positions to a world that understands that clarity of moral vision doesn't always mean you're looking at the right thing. It's hard to generate a head of enthusiasm about that sort of thing, even to mock it.
Be that as it may, it is my government. When I agree with it, I want it to succeed. When I disagree with it, I at least want to get the feeling that even if I disagree, some thought went into the government's opposing position. The tragedy of the Bush administration is that it provides neither of these. Its total incompetence means that it fails when it's right, and it fails when it's wrong. The best you can say about Dubya and his people is that at least they're consistent.
Posted by john at 05:09 PM | Comments (13)
March 01, 2003
John Scalzi's Biography
A brief introduction to me: I was born in 1969 and by 1983 it became clear to me that I had better become a writer because everything else was actual work. Fortunately, so far I've managed to pull this off: My first job out of college was as a film critic at the Fresno Bee newspaper in California, and I've been working as a writer ever since. Since 1998, I've been a full-time freelance writer, which is both fun and occasionally panic-inducing.
As a writer, I've done pretty much everything, from the previously-mentioned film reviews to corporate brochures to books. The last of these is the most "romantic" sort of writing I do (i.e., conforms to what people expect of writers), but I find the other sorts of writing that I do equally interesting in their own way. I'm not a snob when it comes to writing -- work is work, and speaking from experience, doing a good feels good whether it's from writing a book or delivering on client needs.
However, at the moment, I am primarily a book writer, writing both fiction and non-fiction. Here's a quick bibliography:
The Rough Guide to Money Online (2000, Rough Guide Books)
The Rough Guide to the Universe (2003, Rough Guide Books)
The Book of the Dumb (2003, Portable Press)
The Book of the Dumb 2 (2004, Portable Press)
Old Man's War (2005, Tor Books)
Agent to the Stars (2005, Subterranean Press)
The Rough Guide to Sci-Fi Film (2005, Rough Guide Books)
The Ghost Brigades (2006, Tor Books)
The Android's Dream (2006, Tor Books)
You're Not Fooling Anyone When You Take Your Laptop to a Coffee Shop: Scalzi on Writing (Subterranean Press, 2007)
The Last Colony (Tor Books, 2007)
Upcoming books:
Your Hate Mail Will Be Graded: Selected Writing, 1998 - 2008 (Subterranean Press, 2008)
The High Castle (Tor Books, 2008)
Old Man's War, my debut novel, was nominated for the Hugo Award for Best Science Fiction Novel in March 2006. I was also nominated for the Campbell Award for Best New Science Fiction Author at the same time, which I won. OMW was also a finalist for the 2006 Locus Award for Best First Novel. In 2007, I was a Hugo nominee in the category of Best Fan Writer.
In addition to these books under my own name, I am a frequent contributor to books in the Uncle John's Bathroom Reader series. Books in the series to which I have contributed include Uncle John's Bathroom Reader Plunges Into History, Uncle John's Bathroom Reader Plunges Into the Universe, Uncle John's Bathroom Reader Plunges Into the Great Lives, Uncle John's Bathroom Reader Plunges Into Texas, Uncle John's Bathroom Reader Plunges Into Hollywood, Uncle John's Bathroom Reader Plunges Into Michigan, Uncle John's Bathroom Reader Plunges Into New Jersey and Uncle John Presents Mom's Bathtub Reader.
Aside from books, from 2000 through 2006, I was the Chief Entertainment Media Critic for Official US Playstation Magazine, which means I wrote DVD and CD reviews for the magazine, and discussed the social and legal issues surrounding video games. I am also frequent writer for my local newspaper, the Dayton Daily News, for which I also wrote a DVD review column through early 2007. And if that's not enough I'm also a paid blogger, working for America Online. You can see my AOL blog at By The Way, and at the Ficlets Blog.
Aside from work, I live in the small rural town of Bradford, Ohio with my wife Kristine, my daughter Athena and our pets Kodi, Lopsided Cat and Ghlaghghee (pronounced "fluffy."). We all enjoy pie.
Posted by john at 11:54 PM | Comments (265) | TrackBack
Publicist Guidelines
Updated 12/29/06
Interested in sending me a book, CD/DVD, video game, a press release, or any other thing in an evaluative capacity? Increasingly, I've found, people are. If you're one of those people, here's what you should know.
1. First, about this site: The Whatever is a personal blog written by John Scalzi, on which he (which is to say, I) writes about whatever he damn well feels like. These topics include: Politics, science, writing, blogging, technology, music and film, although -- as mentioned -- he feels free to write about other things, and often about none of those topics mentioned above for long stretches of time. Currently (December 2006) the site gets between twenty and twenty-five thousand unique visitors a day, and between thirty and forty thousand page views a day. No, I won't verify those numbers; I'm lazy. Nevertheless, it's true. You can see a John Scalzi bio here.
2. Yes, I will talk about stuff that gets sent to me if I find it sufficiently interesting and/or it dovetails into a topic upon which I am writing. No, I will not guarantee that I will write about whatever it is you are sending me. As a general rule I will write about something only if I like it (particularly in the fields of books and music).
3. The best way to contact me is through e-mail, at john@scalzi.com. Contacting me in other ways is usually not productive or likely to produce the response you desire. You may send me press releases or queries at that e-mail address. I do try to answer e-mail quickly, but if you do not hear from me within about three days, you may assume the answer to your query is "thanks -- not interested." However, if you prefer to think you simply got accidentally shunted into the spam filter (which to be fair is indeed quite possible -- my spam filter is enthusiastic), feel free to follow-up once.
4. I place no restrictions on what you are able to query or send, but as a practical matter, the following are more likely to get my attention:
Books: In addition to discussing books here on the Whatever, I also do a weekly author interview on my America Online site, By The Way, which I promote both on AOL and here at the Whatever. I am always looking for authors to interview. All types of books are eligible for this promotion; variety here is good.
If you are not looking for an author interview but a review/note of the book, then this is the paragraph you should be interested in. In fiction, science fiction novels tend to float to the top of my reading perception (this is due to being a science fiction writer myself), so SF novels are a good bet to get my attention. I also tend to enjoy fantasy, mystery and (some) horror. Straight up literary fiction is iffy unless it's genuinely funny. Graphic novels of all sorts are okay by me. YA fiction is also acceptable; I've got a kid so I'm aware of this sphere.
In non-fiction, science-related, history and humorous books are likely to be a good bet for me to talk about (if you've got an amusing tome of the life of Louis Pasteur, you're golden). Current politics is iffy. Current biography, particularly of celebrities, is likely to fall down a dark hole and never be heard from again. YA non-fiction -- sure, send it along. As previously mentioned, I've got a kid.
If you're promoting a book from someone I know personally, it has a marginally better chance of me at least noting it. What can I say. You do for your friends.
Music: I'm open to all sorts of music. You can send CDs but pointing me at a place online where I can listen works just as well -- indeed, since I find people actually want to listen to the music one's talking about, bands/musicians that have full-length song samples online are substantially more likely to get noted here (I do not link to song excerpts. Anything less than a full song is evil and annoying).
DVDs: Up until December 2006 I was reviewing DVDs for Official US PlayStation Magazine (which is no longer in print) and the Dayton Daily News (which is still in print, but I'm not longer regularly reviewing for them). However, I am happy to note new/interesting DVDs here on the Whatever, and will occasionally write feature pieces on DVDs for newspapers and magazines. Offbeat DVDs are welcome along with the standard fare.
Video games/software: I wrote for Official US PlayStation Magazine for six years, so naturally I'm open and interested on the video game front, and in looking at other software applications. I am currently PC games/software oriented. On the Mac my gaming capabilities are limited but I'm open to other software.
Technology: Why yes, if you want to send me techn doodads to look at, I'd be happy to see them, particularly personal tech stuff like music players, handhelds and toys. Stuff that requires me to crack open my computer to install it, not so much. Include a way for me to ship your things back to you if you ever want to see them again.
Everything else: Query me, please.
5. Interviews: I currently write a weekly author interview, and could be open to interview musicians, filmmakers, game producers and other creative types. If you're interested in securing an interview, mention this with any books, CDs, DVDs etc., you want to send along. I prefer to do e-mail interviews which would consist of me sending a set of questions along and then (if necessary and/or desired) sending a second e-mail for follow-up questions.
6. Additional Media Exposure: As I am a happily working freelance writer, it's entirely possible I may want to cover your book/CD/DVD/video game/whatever for one of my regular outlets. However, as a general rule you should assume that the primary coverage of your product will be in the Whatever.
Any other questions, please send along an e-mail.
You may send things to:
John Scalzi
RE: Whatever Reviewing
9732 Horatio Harris Creek Road
Bradford, OH 45308
Thanks!
Posted by john at 01:53 PM
Disclaimer
For everyone who needs one, the following disclaimer:
1. Everything here is my opinion, and mine alone. (Except for comment threads, which are other people's opinions, and theirs alone.)
2. Occasionally, I am completely full of shit.
3. Well, all right, fine, more than occasionally.
4. On occasion I will also opine on things I know little or nothing about.
5. Which is fine, because the US Constitution says I can.
6. So there.
7. I'm not interested in being fair.
8. I am occasionally petty, nasty, snappish and rude. I'm also occasionally a tremendously sweet guy. You never know which you're going to get.
9. Unless you have been told specifically by me otherwise, no, as a matter of fact, I don't care what you think about me or my opinions.
10. I do try to be polite when I tell you that.
11. But I can't promise anything.
12. This site is operated by me for the purposes of my own amusement, and exists and updates entirely at my whim. If I decide to go away for a day, or a week, or forever, then I will.
I think that's it for now.